WON On-the-Spot: IT'S BACK! Lone Pine Pheasant Club has great cover and flushing birds
November 12, 2012 by Jim Niemiec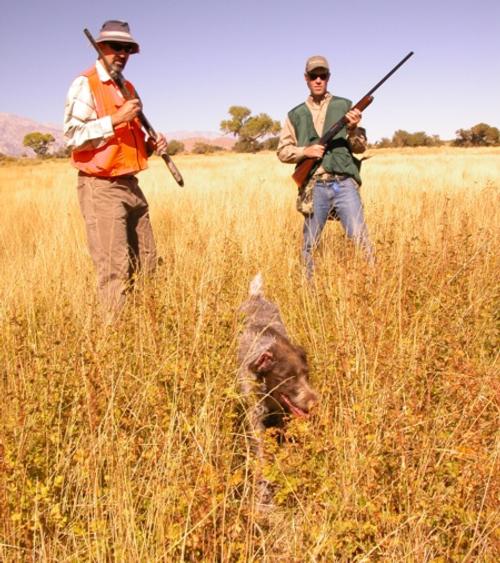 DOG ON POINT — Sage is locked up hard on point as club owner Sean Ponso and Martin Powell move in to flush a tight holding ringneck pheasant. WON PHOTO BY JIM NIEMIEC
The Lone Pine Pheasant Club re-opened for upland game bird hunters after being closed for a few years. Resting ranch property was a good thing to do as the native grass, sage and wild thorny rose brush had a chance to grow into ideal cover for upland game birds. All the protective cover of trees, some stands of thicker high cover, fence lines over grown with ideal upland game bird habitat and native springs combine to make this pheasant club one fine place to hunt.
Western Outdoor News was invited to spend a morning hunting pheasant and chukar on the club last week by Sean Ponso, who along with his father Danny, have worked out a 30 year hunting lease with the owners of the beautiful 700-acre working ranch sitting below Mt. Whitney and also are in the middle of negotiations to purchase the great hunt lodge and all hunting related amenities.
The Lone Pine Pheasant Club is a hunting club that was developed exclusively for the hunter who wants to avoid the large commercial operations and enjoy an informal, truly natural hunting experience. Located only about a three-hour drive from the greater Los Angeles, Orange and Inland Empire this club offers up a unique upland game bird hunting opportunity that hunts large fields of native cover and bird habitat.
It had been five years since WON last hunted the club and turning into the club house driveway triggered memories of a fine morning afield with my last yellow lab Timber. Ponso was more than happy to accommodate the Niemiec's new 5 month old lab Sierra for her first scent of a pheasant and was waiting in the shade of a juniper with his black lab Luna at his side.

PHOTO BY JIM NIEMIEC
Ponso filled this hunting editor in on club plans for the future and then introduced two local bird hunters from Lone Pine. Martin Powell and his nephew Travis Powell (recently returning from active duty flying a Black Hawk) who own and manage the Best Western Plus Frontier Motel in Lone Pine and would be joining us in the field along with Travis's German wirehair pointer Sage.
"We hunt on two of the most beautiful working cattle ranches in California," said Ponso. "The Anchor Ranch, located one mile south of Lone Pine, offers level terrain with calf-high cover, ideal for those hunters who have some difficulty walking and especially well-suited for training young, inexperienced gun dogs. Kemp Ranch, located three miles south of town in the Alabama Hills, offers more challenging terrain and is the location of the club house."
This writer can attest to the excellent cover with Sierra's first introduction to upland game bird hunting when she was put loose into a field, nosed out a pheasant, stuck her nose deep in the rose thorn and then walked around proudly with a long tailed rooster in her mouth for nearly 20 minutes.
GOOD HUNT AT LONE PINE PHEASANT CLUB — It was a successful morning of upland game bird hunting at this well managed club. Pictured above are dog handler Travis Powell, Sage, club owner Sean Ponso and Martin Powell of Lone Pine showing off a harvest of pheasant and chukar with Mt. Whitney in the background. WON PHOTO BY JIM NIEMIEC
Our group would head out to one of the five fields on the Kemp Ranch property. Birds had been released long before our arrival so it would be a true test of gun dog and hunter in the field. Sage worked the cover and thorn brush with a good nose for a dog that is just one and half years old. When she got scent of a bird she would cautiously approach the tight holding bird and then lock up solid pointing directly at the location of the bird.
Pheasant released at the club are raised in nearby Bishop on a ranch with huge flight pens which make these birds very strong flyers. They hold tight in the mixed cover and explode in air like being shot out of a cannon as they flush trying to wing to the safety of another patch of protective cover.
All guns were on target that morning as every bird was accounted for in the bag and there was even a carry-over ringneck from the previous day that topped off a good day in the field with new hunting friends and some fine gun dog work.
The mission statement for the Lone Pine Pheasant Club is straight forward: "Lone Pine Pheasant Club is proud that we are a different and truly unique upland game bird club. We offer a natural hunting experience in world renown surroundings with no crowds, a combination not available elsewhere."
The Lone Pine Pheasant Club is normally open four days a week, hunting Thurs. - Sun. However, the club will open up any day of the week for groups of 8 hunters or more, who can then enjoy the exclusive use of the entire club. In addition to strong flushing ringneck pheasant and tight holding chukar the club offers handlers and gun dogs, a day kennel and a prep-room where birds are packaged ready to send home with the hunter. Another option offered by the club, in addition to taking home wild game birds, is putting in an order for home made pheasant pot pies.
The WON visit to the Lone Pine Pheasant Club will not be the last for this season as a return trip to spend a night at the Frontier Motel, which will allow time in the early morning and late evening to hunt ducks along the Lower Owens River or flush native valley quail out of the surrounding sage covered foothills and then hunt the club for a sure thing. For additional information on booking a hunt at the club call (760) 876-4590 or log on to their web site at info@lonepinepheasantclub.com.
To reserve a room at the Best Western Frontier Motel, which is dog friendly, call (760) 876-5571. The club is one to add to your bucket list of best places to hunt prime upland game birds.
Western Outdoor News Article: http://www.wonews.com/t-OntheSpot_LonepineNiemiec_110212.aspx
Get Connected
Blog Categories