Jim Niemiec's Blog: Fred Hall Show Supports Shooting and Hunting Sports
March 12, 2013 by Jim Niemiec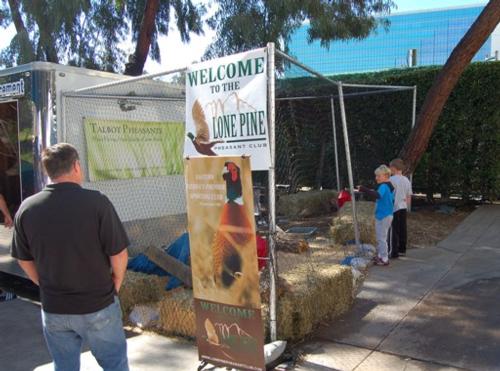 For those who missed the Fred Hall Long Beach show this past week really missed a great venue. This show has grown to be one of the biggest in the western U.S. and with the addition of many booths relating to hunting, outfitters, firearms, accessories, destinations and shooting sports in general this show now has something for all outdoorsmen and their families.
Western Outdoor News spent opening day talking with most all of the outfitters, firearms reps and hunting destination representatives and then went back for a return visit later in the week to take in some of the very informative hunting related seminars that were given during the course of the show.

A SHOW STOPPER - SAVAGE'S NEW B. MAG — Savage Arms introduced its new varmint rifle at the Fred Hall Long Beach Show last week. This rifle is chambered for the new Winchester .17 Super Magnum which is a rimfire cartridge. Showing off the new rifle, which is scheduled for a mid-year delivery to gun shops, is Brad Stieler a representative of Tim Bailey & Associates. WON PHOTO BY JIM NIEMEIC
The highlight of the show for this hunting editor was the mid-year introduction of the new Savage B.Mag bolt action rifle that is chambered for the new Winchester .17 Win Super Mag rimfire cartridge. It's been a long time since this shooter got excited about a new hunting rifle but I cannot wait to field test this neat rifle when it comes to dealers hopefully before the hunting season starts. There is a delay in getting ammo for this rifle as Winchester continues to upgrade the 20 grain polymer bullet with a muzzle velocity approaching 3000 fps producing a much flatter trajectory than other rimfire ammo. WON will follow up on more details on this new Savage rifle as soon as a rifle and ammo are made available. I can hardly wait to go varmint hunting.
Sean Ponso, owner of the Lone Pine Pheasant Club, was in his booth already talking about plans for next season. This club shot well this past upland game bird season, bird cover is in excellent shape and the club house offers a good place to rest tired feet after a morning in the field. Ponso is talking about some new bird pens that will greatly enhance the hunting options at the club and also has worked up a good relationship with the Best Western Plus Frontier Motel in Lone Pine, which is super dog friendly, for those wanting to spend a couple of days hunting in Owens Valley.
Raahauge's Pheasant Club and Raahauge's Hog Hunting booths got a lot of attention from show goers as did the Tejon Ranch, which provides Southern California hunters with hunt options on the huge 275,000 acres ranch just an hour's drive north of Los Angeles. The Velvet Ranch and White Peak's Outfitters Hunting Ranch both offering high quality elk hunts were popular with big game hunters, especially those who have never killed a trophy class elk. Other outfitters and hunting related companies that complemented this year's show included: Wilderness Unlimited, Legacy Sports International, Savage Arms, Lockwood Hunting Services, Carson's Guide Service, Turner's Outdoorsman, Aleutian Adventures, Clark's Outdoor Sporting Adventures, Dean Security Safe Co., Jim Matthews, Jimmy's Outdoors, Kodiak Charters, Mafigeni Hunting, Wind River Outfitters, Elk Creek Outfitters, Crooked Creek Guide Service, Hunter Horner Sharpener, Field Time Target and Training, Safari Club International, Orange County Archery, the California Department of Fish and Wildlife and Bipod Shooting Sticks.
It was a fun show to attend and as the number of hunting and shooting related booths continue grow at the Fred Hall Long Beach Show this is one venue you won't want to miss next year.
Western Outdoor News Article: http://www.wonews.com/Blog.aspx?id=2198&AuthorID=96087&t=Fred
Get Connected
Blog Categories