FIRST PERSON REPORT: A Pheasant & Pleasant Experience
February 22, 2013 by Todd Novacek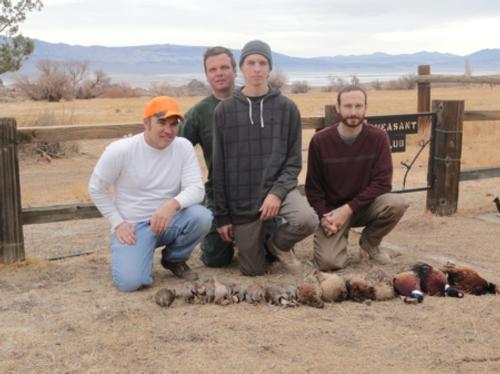 My name is Todd Novacek and I'm the guy in the back of the picture. My son Jake Novacek is in the middle and the guy in the orange hat is Nolan King. The first weekend of February we went to the Lone Pine Pheasant club with some friends. The guy at the right of the picture was our guide, Travis Powell.
All three of us got our first pheasant ever and Jake and Nolan got their first chukar. The club was awesome. The people were great and the owner, Sean Panso, couldn't do enough to see to it that our group of 15 was happy. He even let us have the club that night to make steak dinners for our group. His staff did a great job cleaning our birds and vacuum packing and freezing them. He gets up early so you can leave your birds in his freezer for the night and still get an early start home-picking your birds up in the morning fully frozen.
Our guide, Travis Powell, helped make the trip. His day job is managing the Best Western Plus Frontier Motel in town and if you get lucky he and his dog will take you out for an awesome day hunt. He is a combat veteran, soft spoken, all around nice guy, and his motel is immaculate and dog friendly. From 5-7 a.m. they put on the best continental breakfast you'll find anyplace.
If you're hunting the club he gives you a very nice room rate as well. Between the motel and the Pheasant Club this has to be one of the best deals around to scratch a quick itch to take your kid on a quick hunt. The Pheasant club is also very family friendly and Sean encourages you to bring your spouse and kids and use the club as a means to teach hunting skills to the next generation.
EDITOR'S NOTE: Yes, we know all about this fantastic club in Lone Pine that was open for years, closed, and now has reopened. Cheers.
Western Outdoor News Article: http://www.wonews.com/t-FirstPerson_ToddNovacek_022213.aspx
Get Connected
Blog Categories